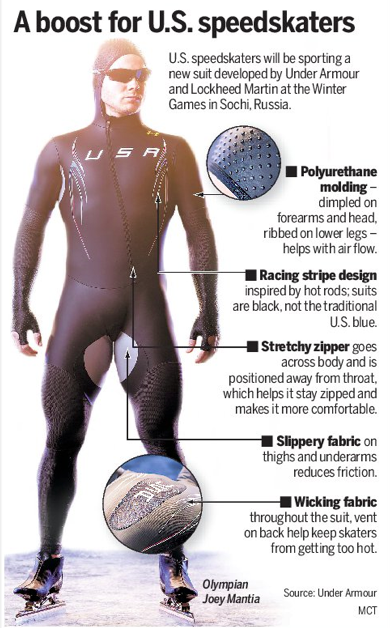 We've seen team suit controversy before in Beijing's 2008 summer games, when Speedo's swim suits were so far superior to others that rival companies allowed their athletes to use them in order to have the best chance to medal.
In Sochi, the talk was of Team USA's "secret weapon" - Under Armour's "revolutionary" new Mach 39 suit. (seen here →)
Now, it seems, Team USA is seriously considering a switch back to their previous suit design - also made by Under Armour - if for no other reason than to shake a possible jinx. Not only has the US has failed to reach a medal podium in the first six skating events, but the team has been shut out of the top 5 in all six. This includes a disappointing and frankly bewildering 8th place finish in the 1,000m by 2-time defending gold medalist and three-peat hopeful, American Shani Davis.
There has been mention of the new venting system possible having the opposite effect of its design intentions - actually causing drag rather than reducing it. Yet another factor in the discussion is: location, location, location. Team USA trains at high altitude, on harder more solid ice - while the ice in Sochi is softer and "sloppier" being at sea level.
Do you think reverting to their previous suit design will bring Team USA medal success in the remaining races, or are we seeing the results of training under the wrong conditions? Cast your vote, and comment below with your thoughts on this issue.
Which factor do you think has contributed most to the poor results from Team USA speedskating thus far?
---
---