The 2006 XX Olympic Games took place in Torino, Italy (also referred to as Turin). This was the third time that Italy has hosted the Olympics, the first being in Cortina d'Ampezzo for the 1956 Winter Olympic Games and the second in Rome for the 1960 Summer Olympic Games.
Torch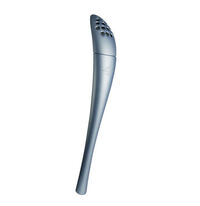 The Olympic torch was designed by Pininfarina, the same company that creates several high-end designs for clients such as Ferrari. The form of the torch, which was also used in that year's torch relay, is a sleek modern design that combines the shape of a ski and a mountain peak. Unfortunately, weighing in at five pounds, the torch was heavily criticized for being far too heavy.
Medal table
Gallery
See Also
Logos

- A collection of logos featuring this event.
Mascots - The official mascots of this Olympics'.

Torch

- Information about this Olympics' torch.
Links