Pyeongchang 2018
was the 23th Winter Olympics (XXIII) after
Sochi 2014
. They were held in
South Korea
. Pyeongchang competed against Annecy,
France
, and Munich,
Germany
. This was the second time that the Olympics have visited South Korea, after
Seoul 1988
.
The Russian delegation was suspended, and only selected athletes were allowed to participate as Olympic Athletes from Russia. North Korea also participated, and to show an improving relationship between the two Koreas, a unified team was created to compete in women's ice hockey, as well as a combined entry during the opening and closing ceremony of the Olympic Games.
Pyeongchang lost in the bid of both Vancouver 2010 and Sochi 2014, but tried again for 2018. To win the bid, they had to defeat Munich (which already hosted Munich 1972) and Annecy. After the first round of voting, Pyeongchang had 63 votes (against 25 and 7, respectively), more than the required majority of 48 votes.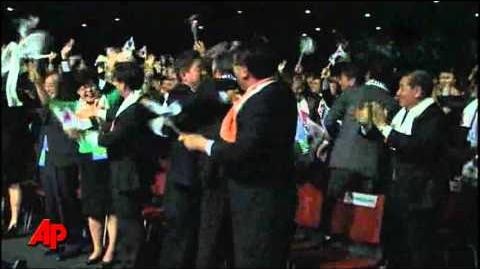 Opening ceremony
Edit
Main article: Opening ceremony
The opening ceremony on 9 February was to convey a message of peace across the world. The ceremony, with the motto "Peace in Motion" shows that everything can live together in harmony and that everything is made out of the balance between yin and yang.
Main article: Venues
The venues of Pyeongchang were mostly divided into two clusters: the ice events mostly took part in Gangneung, while the snow events took place in the Alpensia resort. The two standalone venues were the Bokwang Snow Park and the Jeongseon Alpine Centre, which hosted the Freestyle skiing, snowboarding, and some alpine skiing events, respectively.
Medal Table
Edit
External links
Edit