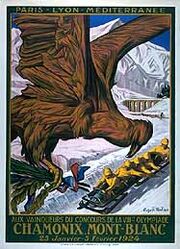 In 1924 Chamonix, France hosted the "international Winter Sports Week". Two years after the event they retroactively declared Chamonix to be officially the first ever Winter Olympic Games. 16 nations competed in the 16 events from 9 different sports. France also hosted the 1900 Games in Paris prior to these Games. After Chamonix, France hosted the 1924 summer Games in Paris, the 1968 Winter Games in Grenoble and finally the 1992 Winter Games in Albertsville.
After Chamonix and the Paris Games, the IOC forbid such practices as compensating athletes for time taken away from work to compete, making it almost impossible for working-class athletes to participate.
Due to an error in computing the scores, American Anders Haugen is placed in fourth in ski jumping, behind Norway's Thorleif Haug. This is discovered in 1974, and Haugen is awarded the bronze in a special ceremony.
Voting results for the 1924 Winter Olympic Games
City
Country
Round 1
Chamonix
France
Initiative of Paris 1924
Medal table
Image Gallery
See Also
Logos

- A collection of logos featuring this event.
Links