The 1996 Summer Olympics (officially the Games of the XXVI Olympiad, also known as Atlanta 1996 and unofficially known as the Centennial Olympic Games) were an international multi-sport event held between July 19 and August 4, 1996 in Atlanta, Georgia. These were the fourth Games to be hosted by the United States, and marked the centennial of the first Olympics in 1896. They were also the first Summer Olympics to be held in a different year from the Winter Olympic Games, due to a new IOC system.
Host city selection
Torch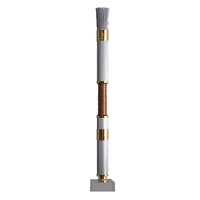 The Olympic torch was modelled to look like the most ancient of torches, a bundle of reeds bound by twine. The design stirred a bit of controversy, however, when it was pointed out that the torch also resembled a fasces, the symbol of fascism.
Medal table
See Also
Logos - A collection of logos featuring this event.